Magpie Bakehouse, logo design, 2021
Emily Keenan, the phenomenal baker behind Magpie Bakehouse, approached me to create a logo for the brand. Our first step was to trade ideas and reference images, brainstorming the many possible directions we could take. Some of the topics that came up:
Clean, simple Scandinavian design
Victorian nursery rhymes
Spooky, witchy vibes
Magpie birds
The Groke from Moomin
I took these ideas and channeled them into these sketches: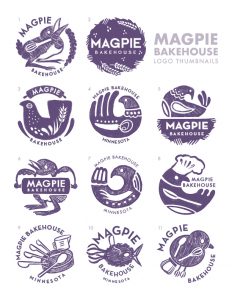 After we discussed the thumbnail sketches, I created three revised sketches as we narrowed in on our theme. We ultimately settled on a bird design that incorporated the four fundamental ingredients in bread: flour (wheat), water, salt, and yeast.

I was absolutely delighted with how the final product turned out. A couple more fun facts: the bird's eye is the symbol for salt, and the bird's body is shaped like a left hand, because Emily is left-handed!